The STEPN project has two tokens: GST and GMT.
GST – Green Satoshi Token . This is an in-game project token that is farmed (earned) during the game.

GMT – Green Metaverse Token. This is the management token of the project.
To thoroughly understand how GMT differs from GST, let's look at these tokens from different angles and compare them.
Emission
GST
At the beginning of the project, a total of 60 million GST tokens were issued. Further , the coin was distributed as follows:
40M GST was used to increase the liquidity of Orca, Raydium and Pancakeswap.
20M GST is locked to create a cross-chain between Solana and Binance Smart Chain.
GST now has an unlimited supply.
GMT
But GMT has a fixed supply of 6 billion tokens. According to the diagram below, this reserve was allocated to various project goals in a specific ratio (only 24.9% was allocated directly to the game).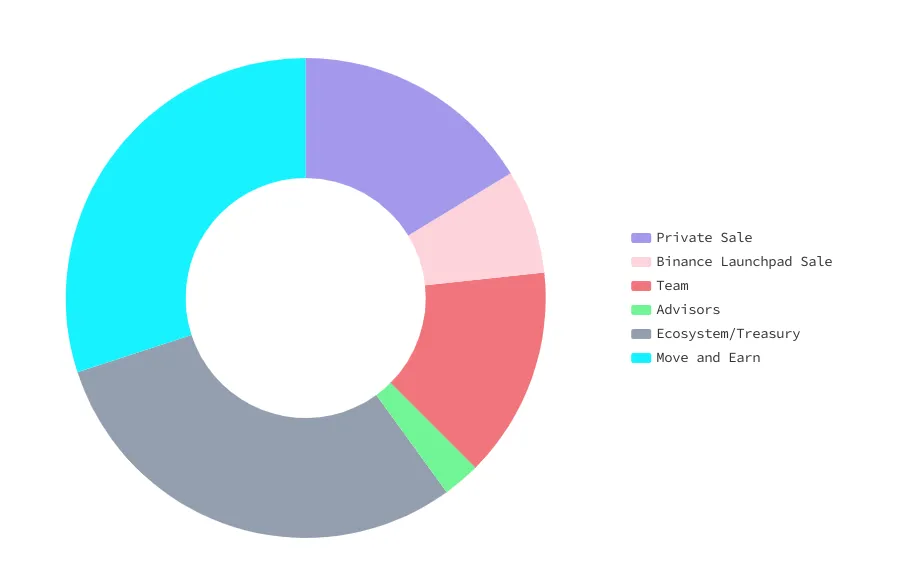 In addition, GMT has a long unlock period that will end in 2030 .

How to get tokens?
GST
GST is used as a reward in STEPN. To receive this reward, the user must purchase NFT STEPN sneakers and burn some of the energy that is allocated to him for a day.
STEPN has 4 different types of running shoes . The size of the reward in GST, depending on the type of sneaker, can be seen in the picture below. You can read about energy here , but for now let's just say that 1 unit. energy is about 5 minutes of walking or running .

Each shoe can be leveled up from level 0 to level 30 to earn even more GST .
GMT
If we compare GST and GMT, the main difference is that GMT cannot be obtained directly in the game yet. You can only buy it on the exchange, or exchange SOL, USDC or GST tokens for GMT in the STEPN app.
In the future, GMT tokens can also be farmed, but for this, sneakers must be level 30, and there must be at least 3 units on the account. energy.
Burning
GST
As we mentioned above, the supply of GST is unlimited. And developers are forced to influence its quantity so that the volume of the token does not reduce its price to zero. To do this, the project has various mechanics for burning GST:
The lower the durability of the sneakers, the less you earn. Therefore, it is important to repair sneakers for GST tokens.
Sneakers can be upgraded up to level 30. For each new level you pay GST.
Mint ( crossbreeding ) sneakers.
To cross shoes with each other, you need to spend GST.
In the game, loot boxes – boxes with precious stones (gems) can periodically fall out. They also require GST to open.
Gems are inserted into special sockets that can be opened at levels 5, 10, 15 and 20. You also need to pay a certain amount of GST for this.
GMT
The total supply of GMT is expected to decrease in the future through token burns. While GMT is being burned while performing the following functions:
GMT is used when upgrading shoes to 5th, 10th, 20th, 29th and 30th;
GMT is also spent when crossing sneakers.
In the near future, it is planned to burn GMT with an increase in the level of gems (precious stones) above the 4th.
Course and capitalization
Finally, we will provide information on the current exchange rate and capitalization of the STEPN project cryptocurrency.
The GST (Solana) rate is now $0.88 with a market capitalization of over $62 million.
The GMT price is $1.01 and the market capitalization is $604 million.